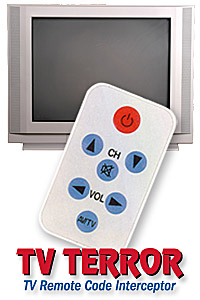 TV Terror is a new device that can automatically intercept a TV's remote control coding information, enabling it to function as a "clone." It allows the user to turn the TV on or off, change channels, control the volume, mute, etc. It can even "grab" the coding information while the target TV is turned off!

You now can have the ability to control what you see and hear wherever you go - bars, waiting rooms, the neighbor's house - anywhere there's a TV. Or use it at your own house; it's great for harassing your TV-addicted family members. But use only with appropriate discretion - using during the Super Bowl at a sports bar would definitely not be recommended.

The TV Terror automatically scans nearly all of the TV codes in existence, and when it determines the correct one for the target TV, it captures and stores it. Most TVs take less than 10 seconds, a few can take up to 60 seconds. But after the initial time, it's always instantaneous. It's simple to use. If the target TV is turned off, just aim it at the TV and hold the red "on" button down until the TV turns on. That's it - you now have control over that TV! If you want to intercept the code discreetly while the TV is turned on, then hold down the TV Terror's mute button until "mute" appears on the TV screen. It's easy to re-program for use on a different TV - just aim it at the new TV and repeat this process.

Very compact size for discreet deployment (it's only 2.25" x 1.5" x .25"). But don't let its small size fool you; it's actually a sophisticated digital micro-computer. Works on 85% of all TVs. Powered by one CR-2032 3-volt battery (included).