EMAX-9999 "Find Anything or Anybody a 1000 Yards Away"

Somewhere out in the forest; your enemy is hidden, his exact position is unknown and he is motivated by only one thought... to elude you and your team. In the past, the only way to find him was by reconnaissance with your troops or special forces. Many times, because of the forest environment, your operations were unsuccessful, or worse, resulted in casualties due to unexpected aggression.
Throughout the world, everyday, this is a real life scenario. In all armed actions there are risks. The EMAX-9999 Thermal Detection Device (pictured below) can help your forces maintain the upper hand in dense jungle, forested regions, and in fact any condition in which you need to deploy personnel.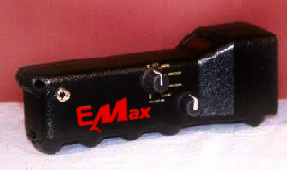 During similar operations of the Vietnam conflict, this same technology would have cost hundreds of thousands of dollars per unit, required extensive personnel training and would have required a small military transport to carry all of the equipment. Due to developments over the last twenty years, this technology has been reduced to a hand held device that is simple to use, extremely rugged, reliable, and operates in the most punishing conditions imaginable.
The EMAX-9999 is an extremely accurate and sophisticated piece of equipment, It detects even the slightest changes in thermal signatures. By using the small hand held device in a sweeping motion, the EMAX-9999 can detect minor changes in temperature at a range of over 3,000 feet in open areas and through 300 feet of dense forest, day or night. What does this mean to you? You can detect your opponent's position and take necessary actions before he even knows you're there.
The EMAX-9999 also offers a motion detection mode. When set in this state, the EMAX-9999 powerfully detects any motion that comes into its field of view. Combined with a field transmitter, you can remotely monitor areas of suspected enemy movement by concealing the EMAX-9999. Set in either thermal or motion mode, you now have the advantage of unmanned surveillance that can see through woods and will detect even the slightest movement.